I recently watched Broadchurch. It's amazing. I have so many things I want to saay about it. IT's really well made and even though it tkes 8 episodes, the ending is mindfuck.
Firstly, I want to say that seeing David Tennant as a detective is freaking sexy. I've been a fan of his since Harry Potter and Doctor Who. The Tenth Doctor kind of marked my teenage years (lol). He is an amazing actor and his face can portray some of the emotions really well. His character is Alec Hardy and he has some past issues there. He worked on a case and because of a mistake, the killer got away. Now, he needs to finish his current case for the victim's family and his own state.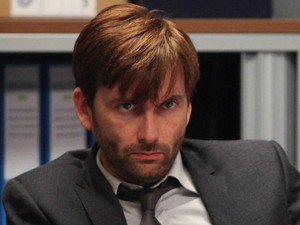 Kind of the same but not really, right? Such different expressions and personalities. This actor is really good. I saw a lot of his theater works and he's definitely one of the best.
Now, someone who I had seen (and couldn't believe the irony) is Arthur Darvill! I just got surprised for a long while. I knew him from somwhere but couldn't remember where exactly. Then I realized! He played Rory! I was like 'look it's Rory! and he plays a vicar!' So my excitement only grew. I looked forward to each episode and at some point he was suspicious too!
In this show, everyone has secrets and everyone is suspicious. It's such a tangled situation that you remain wondering who is not guilty. I like how slow they take the whole investigation. It doesn't end in a week or something. It ends in about 60 days. That's much closer to what a real case probably goes like. I really like it as a whole. Oh, and you will see a lot of familiar faces in this show. I know I did. Well, except David and Arthur. I swear that boy, Danny, he wa sin Merlin too. I swear he played the young version of Mordred. Maybe I'm wrong but...they kinda look alike.
So, what is Broadchurch about. Let's see what Google tells us.
Set on the Dorset coast, it centres on the death of an eleven-year-old boy, and the search for his murderer by detectives Alec Hardy (Tennant) and Ellie Miller (Colman).
Nice up until now, right? Detective series. It sounds promising. It's just that, there is so much more to it. It may seem a little boring because it takes a whole season for them to catch the killer, but they make it so interesting and captivating that you don't care anymore. I loved it and I hope you guys will check it out. I can't wait for Season 2.